Joining Cashblack isn't just about increasing your sales; it's about becoming part of a vibrant community, making a positive impact, and turning shopping into a celebration of culture and diversity. Our platform is a win-win for both businesses and shoppers, and we're here to tell you why. Get ready to boost your sales, reach new heights, and make a difference.
What Do You Get with Cashblack?
Our Black-owned retail partners can get a whole host of benefits from working with Cashblack including these below:
Amplify Your Reach: Leverage our extensive network and marketing expertise to reach a broader audience. Our platform connects you with consumers who actively seek to support Black-owned businesses.
Boost Sales and Revenue: Statistics show that businesses partnering with affiliate programs experience an average 30% increase in sales. Joining Cashblack can significantly boost your bottom line.
Affiliate Marketing Success: Affiliate marketing accounts for 15% of all digital media revenue. By tapping into our affiliate network, you tap into a proven and lucrative channel for growth.
Cashback Incentives: Our cashback rewards program motivates customers to make repeat purchases. On average, businesses offering cashback see a 45% increase in customer loyalty.
Community Impact: By joining Cashblack, you become a part of a larger movement to empower Black-owned businesses. This is an opportunity to inspire change and support your local community.
Customized Support: Our team is committed to helping you succeed. We provide tailored guidance and resources to optimize your affiliate marketing strategy.
Data-Driven Insights: Gain valuable insights into customer behavior, preferences, and trends. Use this data to refine your marketing strategies and enhance your products or services.
Seamless Integration: Easily integrate Cashblack into your existing e-commerce platform. Our user-friendly system ensures a hassle-free experience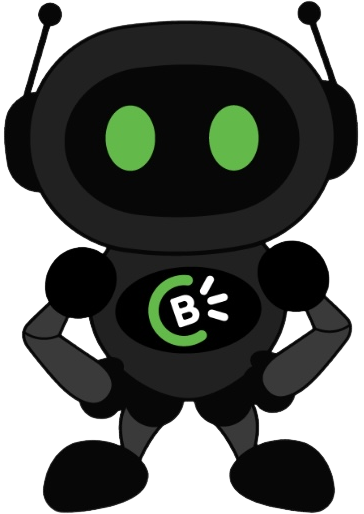 A.F.R.O.B.O.T Access: Benefit from major brand retailer traffic getting redirected to your store and from increased traffic from the A.F.R.O.B.O.T query answers on X (Twitter)
How Can I Get My Black-Owned Business on Cashblack?
You can get your business on Cashblack in 3 simple steps
1. Join an Affiliate Network
On Cashblack, we onboard companies through their affiliate programmes. If you're not already registered to an affiliate network and you would like to get your business in front of our members, you can sign up to our affiliate network sister company Afrofiliate where you can also be connected with content creators, media houses and other publishers like Cashblack who'll promote your business to their audiences.
Plus, you'll also be able to convert your loyal customers into incentivised brand ambassadors who you'll be able to help generate their own passive or active income by driving sales for your businesses through your affiliate programme.

Click here to start an affiliate programme, loyalty plan or brand ambassador scheme for your Black-owned business
2. Select Your Membership Package
Choosing the right membership tier is the first step on your journey with us. We offer three distinct tiers, each tailored to meet your specific needs with additional features available on request.
Basic: Free. Intended for retailers on popular marketplaces like Etsy, Deliveroo, Uber Eats, Just Eat, and Amazon.

Premium: £14.99 per month. 4 offers, social media promotion, priority ranking search results and A.F.R.O.B.O.T browser extension and Twitter bot.

Professional: £29.99 per month. Unlimited offers, access to analytic data on their sales and performance, sponsored results across the platform, and features like Cashblack email blasts and blog features.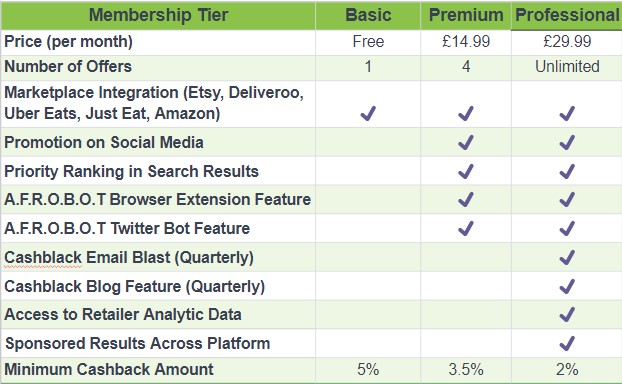 3. Complete the Application Form
Select an option below to fill out an application form for either an online business on restaurant, grocery store or takeaway vendor.
Once you've completed the above, please allow us up to a week to respond and we'll look forward to welcoming you onto our platform. If you would like a full overview of everything Cashblack has to offer your business, please view our Retail Partnership Presentation or contact us at partners@cashblack.com.
See You Soon!